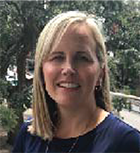 Rachel Patrick (Account Executive)
Rachel's primary role is in managing and growing relationships within our current and prospective customer base.
Rachel's Account Management career in healthcare began in Revenue Cycle Management, working with Urgent Care, Family Practice, Internal Medicine and Emergency Medicine clinics to meet their financial benchmarks. Having worked with various EMR software and device companies including Allscripts, AccuReg, eClinical Works, Urgent Care Works and most recently, Zoll Medical Corporation in the cardiac arena, her knowledge of both clinical workflow and software systems uniquely positions her to support clients, troubleshoot their objections and understand their goals to be successful.
With over ten years of experience in the healthcare industry, Rachel is a results-driven account management professional, combining a strong personal work ethic, a high level of energy and initiative, and superb organizational, communication and customer service skills to meet and surpass defined goals and objectives.
Rachel holds a Bachelor of Science degree in Education from the University of South Alabama.